From the Executive Director's Desk
On June 16, Governor Murphy announced the development of the New Jersey Wind Port, the first port in the country to be built specifically for offshore wind marshaling and manufacturing. Former Governor Florio summed it up best when he said the initiative could turn New Jersey into the "Silicon Valley of the wind energy industry.''
Another big action on climate policy came from California. In late June, the California Air Resource Board adopted a zero-emission truck program, known as the Advanced Clean Truck initiative, which should help accelerate electric truck production and deployment. The board ordered manufacturers of medium-duty and heavy-duty commercial trucks to begin selling zero-emission versions in 2024, with 100,000 sold in California by 2030 and 300,000 by 2035. By 2045, they want every new truck sold in California to be zero-emission.
Northeastern states are also looking at this model. As you may recall, earlier this year Governor Murphy signed the omnibus electric vehicle (EV) bill that established ambitious goals, including requiring 330,000 EV registrations for passenger cars by 2025, rebates for EV purchases, the build-out of electric vehicle charging stations, and a goal for NJ Transit to electrify by 2032. Will electrification of medium and heavy-duty trucks be next for New Jersey?
Also, this month, WEC and partners in Jersey Renews released A Roadmap Toward a Just, Green Recovery which includes ten core principles that must be the foundation for New Jersey's recovery. Twenty-five faith, environmental, labor and social justice organizations endorsed the recommendations.
Finally, WEC continues to work with labor partners on COVID-19 protections for workers. As more workplaces reopen, WEC will continue to educate, connect, and organize to ensure our workplaces are protected
I hope everyone has a safe and socially distanced 4th of July.
In Solidarity,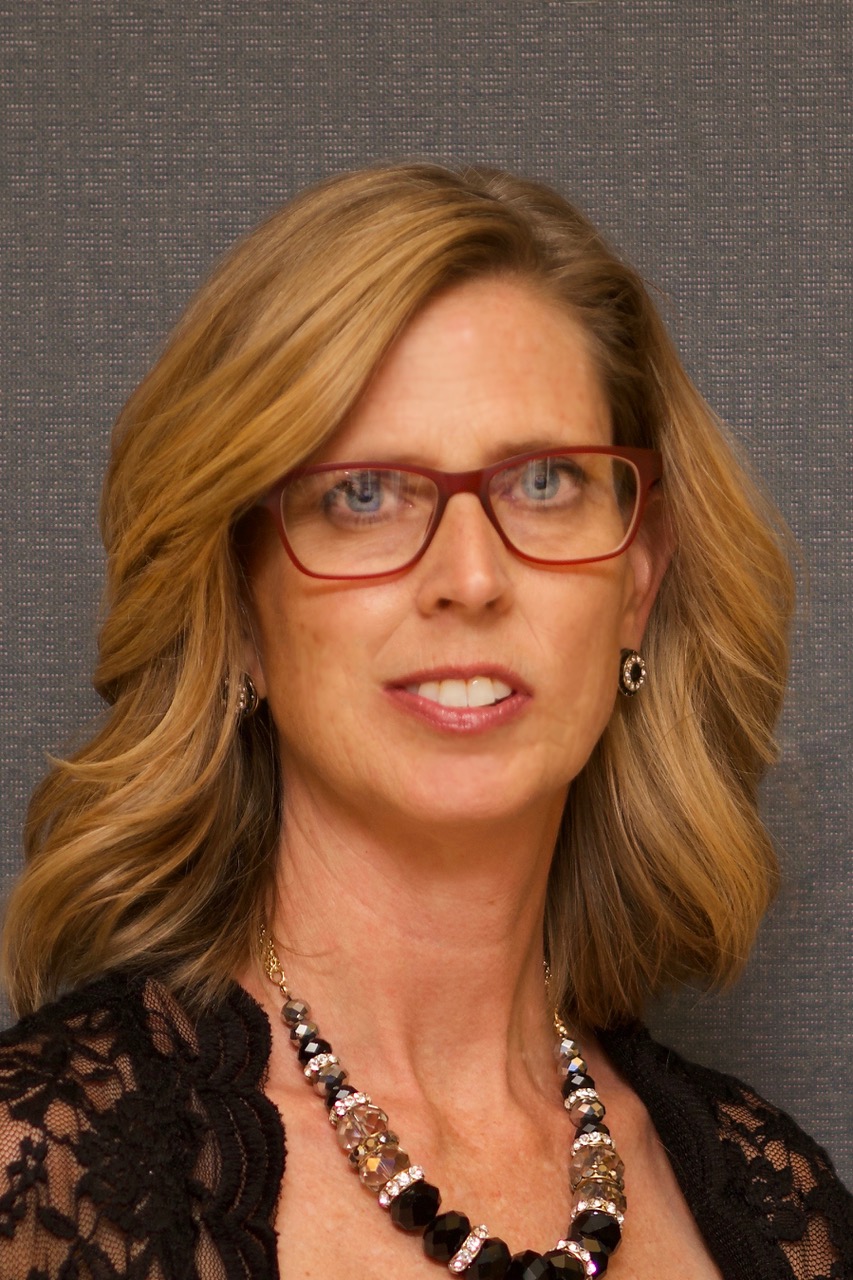 Debra Coyle McFadden
Executive Director
Great News for Offshore Wind - NJ Wind Port Announcement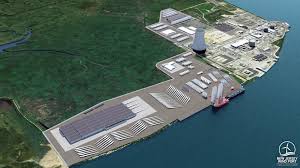 On June 16th, Governor Murphy announced the development of the New Jersey Wind Port, the first port in the country to be built specifically for offshore wind marshalling and manufacturing. The port will be sited in the Lower Alloway Creek area in Salem County on Artificial Island next to the Hope Creek Nuclear Generation site. The project is a significant step to bring an offshore wind supply chain to New Jersey and put our state on a path to a clean energy future.
The NJ Economic Development Authority (NJEDA) estimates that the New Jersey Wind Port will create more than 1,500 long term jobs in manufacturing, operation and maintenance, as well as several hundred short-term construction jobs. NJEDA pledges to prioritize employment of women and people of color, as well as local hiring in an area of the state with high rates of poverty and unemployment.
"This is a bold initiative that can make New Jersey a regional leader in the offshore wind manufacturing supply chain," said Debra Coyle McFadden, executive director of the Work Environment Council.
Read the Jersey Renews press release here.
SAVE THE DATE!
HSN Conference
Mercury & Lead:
Hidden Toxins in Your School?
Saturday, October 24, 2020
8:30 AM-2:00 PM
NJEA HQ
180 West State Street
Trenton, NJ
Welcome Berenice Tomkins
Berenice Tompkins joined the WEC staff on June 1 as the Jersey Renews campaign organizer. Berenice comes to Jersey Renews with a background in climate organizing, including her ongoing work with the Sunrise Movement, and field organizing with progressive electoral campaigns.

Berenice is thrilled to be working with a multi-sector coalition that brings together environmental, labor and economic justice groups around the understanding that climate justice is worker and economic justice, and she believes the climate movement needs to build more such coalitions in order to achieve the scale of change we need.
Help us Demand a Public Bank- to Invest in Community Health and Safety
For the past three years, the Public Need Program has advocated for New Jersey to establish a public bank, to help us reclaim our public dollars and redefine what investment means for working people in New Jersey.
These past few months, the COVID19 disaster has highlighted our need for an institution which can invest public dollars into emergency relief programs swiftly, and the uprising being led by communities of color to defund the police has called attention to how badly our state needs investments in education and healthcare in these communities.
Please sign, and ask your members to sign, our petition for a public bank, and help us shape what public investment in New Jersey can look like if we demand better.

COVID-19 Webinar Series: Saving Lives, Protecting Workers
Our COVID-19 weekly webinar series, co-sponsored by Rutgers LEARN and Jersey Renews, has continued to connect and inform hundreds of New Jersey workers and advocates. Saving Lives, Protecting Workers airs on Tuesdays at 10 am.
Highlights from June
June 2: The Impact of School Closings & The Challenges of Reopening: The panel spoke about the need for strong safety protocols to be in place to ensure that schools are safe and healthy for everyone as we look to reopen.
June 9: COVID, Social Distancing, and the Economy: What Can We Learn from the Swedish Experience featured Professor Aman Russom, head of the bionanotechnology division at the KTH Royal Institute of Technology in Stockholm. Russom felt that Sweden's approach had failed in regard to protecting the elderly. The Swedish experience underscores the importance of being on guard for a resurgence of COVID as the state reopens.
June 16: Public Health, Worker Safety, and Funding Challenges for Public Transportation in a Covid-19 World and discussed the ongoing challenges to protect transportation workers and the public as the economy re-opens and the serious funding challenge of NJ Transit.
June 23: Working Parents Need Child Care: An Update on the Reopening and we discussed the importance of childcare as our NJ families head back to work and our childcare centers reopen.
June 30: Update on the Updates, we checked back in with several of our previous webinar participants for a round table discussion.
You can view more in depth recaps from all past episodes here.

NJ SDA: Retroactively Testing Floors in SDA Districts
In response to our efforts to call attention to the presence of mercury in rubberized gym floors in our public schools, the NJ Schools Development Authority (SDA) has announced that it will test and inspect rubberized, polyurethane floors which were installed in their districts.
Although the SDA put standards in place to prevent the installation of floors with mercury in them last spring, many of these floors were purchased and installed before these standards were created.
The SDA will perform on-site inspections at 143 schools in 29 districts to ensure that all rubberized floors have been located and tested. Floors that have a positive "bulk sample" for mercury will then undergo air testing for mercury vapor according to state guidance.
At this time school districts who have utilized ROD (regular operating district) grants are not included in the testing.
We are grateful that the SDA has taken a proactive approach to address this health hazard. It is our hope that the rest of New Jersey will follow the lead of the SDA by identifying and testing these floors across the state to ensure that all of our school staff and students are not exposed to this harmful neurotoxin.
NJSDA CEO Manuel Da Silva provided the following comment: "There is no greater priority to the SDA than the health and safety of New Jersey's school children and the men and women who work in our schools. The SDA's flooring evaluation and testing initiative is an important step to ascertain if remediation activities will be required in any of our SDA delivered facilities, providing a safe learning environment in which students can thrive."
Read more about these floors in our op-ed here.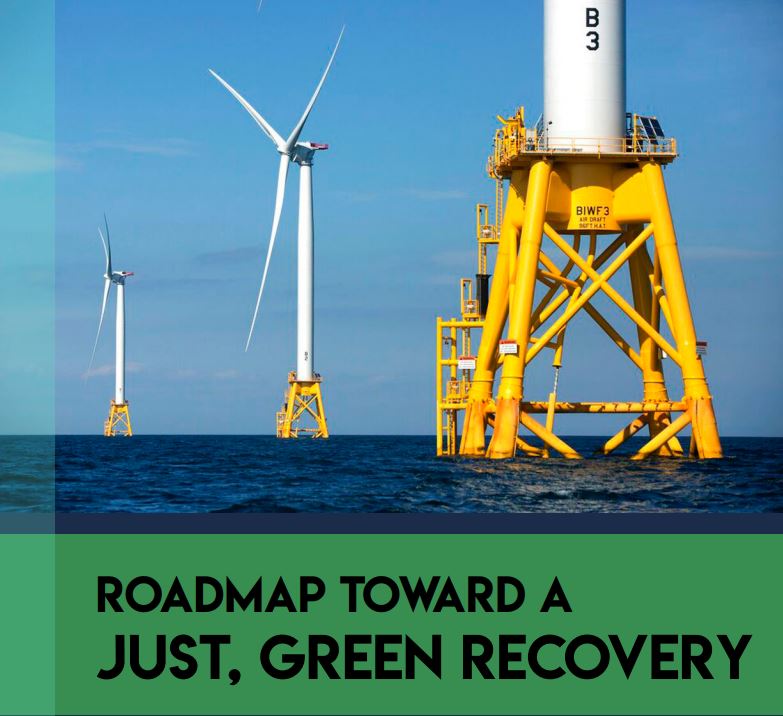 Recovery for All: Jersey Renews Releases Roadmap Toward a Just, Green Recovery
On June 25, Jersey Renews released a set of recommendations to guide a just, green economic recovery for New Jersey. The report, A Roadmap Toward a Just, Green Recovery, has been distributed to key legislators and to the co-chairs of Governor Murphy's Restart and Recovery Advisory Council, which has been tasked with drafting recommendations on what a long-term economic recovery will look like for the state. The report outlines opportunities to invest in rebuilding and strengthening critical infrastructure around the state; expand and electrify our mass transportation system, build water infrastructure that fulfills the intent of the Clean Water Act to bring clean, safe drinking water to every home and business in the state, and to chart a path to a clean, renewable energy future. Twenty five faith, environmental, labor and social justice organizations have endorsed the recommendations, which were crafted based on input from more than twenty partners.
"The allocation of billions of dollars to our state's economic recovery actually presents a tremendous opportunity for New Jersey to redefine what we value and who we care for. Let's use this opportunity to become a state that puts health first, that understands healthy air, water and homes and a safe climate as basic human rights, and that would never put any New Jerseyan in the position of having to show up to work at unnecessary risk to themselves or their family," said Jersey Renews campaign organizer Berenice Tompkins.

Check out our press release or the full report for more information!
New Jersey Work Environment Council (WEC)
172 West State Street 2nd Floor | Trenton, New Jersey 08608
609.882.6100 | info@njwec.org