From the Executive Director's Desk
I am honored have been selected by Governor Murphy to serve on the Green Economy Council. I look forward to working with other members of the Council to ensure NJ's green economy works for workers.
As we look for opportunities to maximize clean energy jobs, we need to ensure that these are family-sustaining, union jobs with strong worker protections — and that they are accessible to marginalized workers who have been left behind. This is a once in a generation opportunity and I am ready to get to work.

Read more about the Council here.
Sincerely,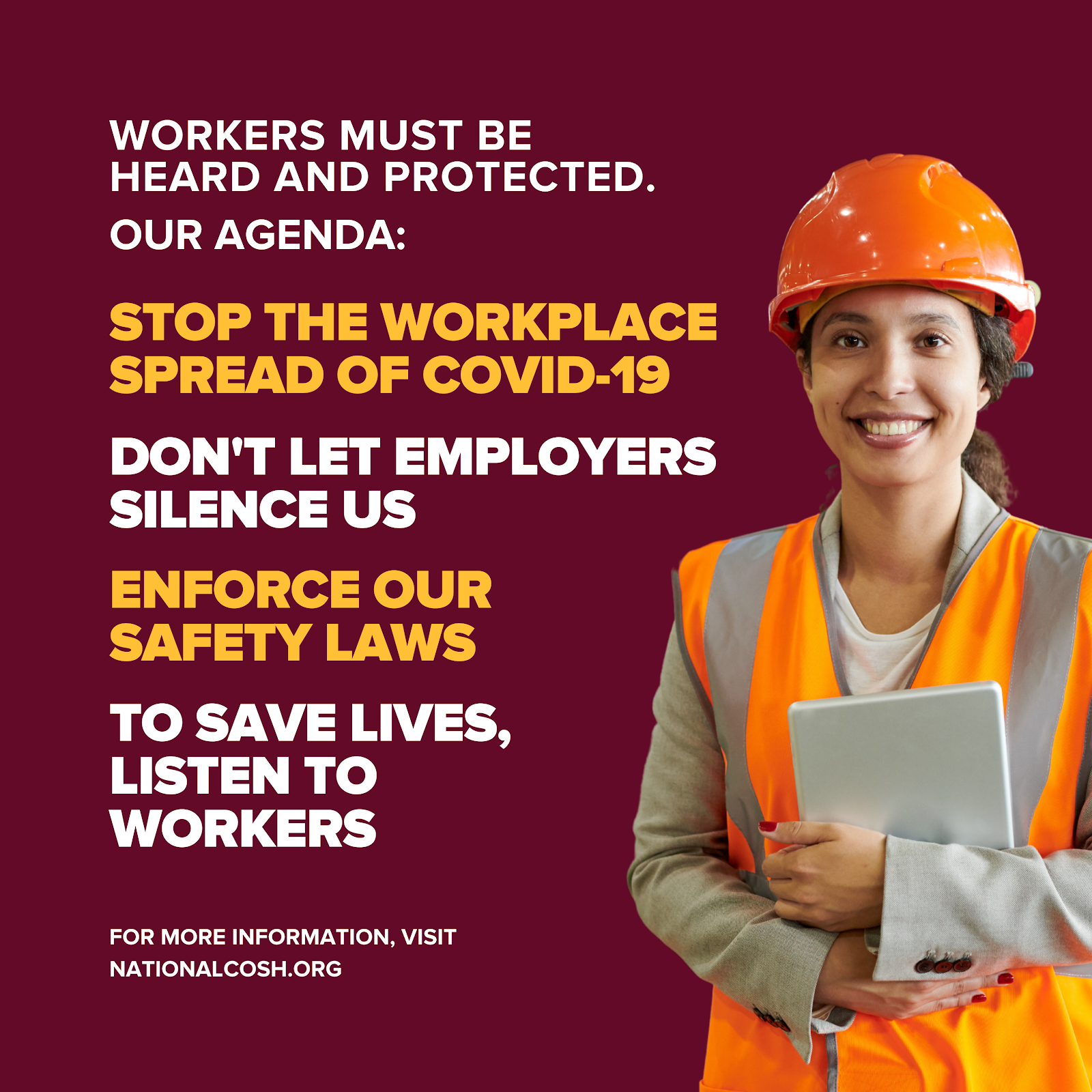 WEC, National COSH, and 100+ Worker Groups Release 2021 "Agenda for Worker Safety and Health"
As we approach the one-year anniversary of COVID-19 entering the United States, frontline and essential workers across the country continue to grapple with deadly conditions at their jobs. To save lives and get us back to work safely, the National Council for Occupational Safety and Health (National COSH), NJ Work Environment Council, along with 100+ other organizations today released an eight-point "National Agenda for Worker Safety and Health".
The National Agenda is a bold, transformational vision for the future of worker health and safety in the U.S. The agenda brings together ideas, based on real experience in our workplaces, to confront the COVID-19 pandemic and other longstanding workplace hazards. This is an agenda to build worker power so we can make our workplaces safer and protect ourselves, our families and our communities. Learn more about the agenda here.
WEC Named 2020 Hero
WEC received the 2020 Hero Award from the national Healthy Schools Network for our contributions to the national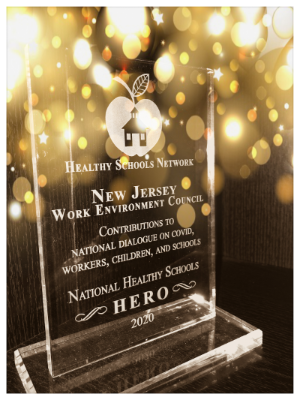 dialogue on COVID protections for student and school staff.

"We named them a national healthy schools hero because of their great work on the pandemic report, which really contributed to informing and elevating a new national dialog, bringing together the interests of children, the interests of labor, the interest about the buildings, and the interest about the occupants," said Barnett.

Debra Coyle McFadden, the executive director of NJWEC, accepted the award on behalf of the organization. Debra thanked Allen Barkkume, WEC Industrial Hygiene consultant, and Heather Sorge, WEC Healthy Schools Now organizer who made significant contributions to the National Call to Action: The Pandemic v. Schools report.

You can view the event and read a recap by our friends at NJEA here.
Gamestop & Robin Hood Textbook Examples of Runaway Inequality
This month, top news included thousands of small investors gaming Wall Street's exploitative systems to inflate Game Stop's stock prices and cause problems for the major hedge funds that have been bleeding the company, companies like it, and the workers who work there, dry for years.

But of course, the trading app in which the majority of the activity happened, Robin Hood, sided with Wall Street and blocked customers from investing in GameStop. This is a textbook example of corporations, politicians and Wall Street all working against the interest of workers and average people.
Wall Street, massive corporations, and major banks work tirelessly to use investment, the stock market, and debt to exploit our economy, our state, and working people. We have to organize to take it back.

Care as much about ending exploitation through debt as much as we do? Join us on March 10 to learn about how democratically controlled public banking can be used to reclaim our economy!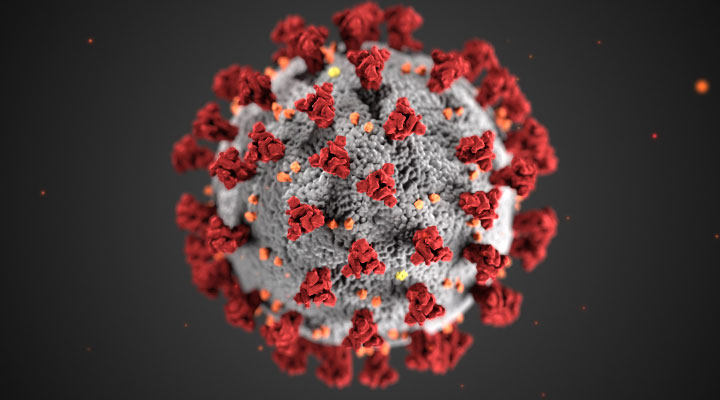 NJ COVID-19 Awareness & Prevention Training
Thurs., March 11th, 3:30 pm - 5:30 pm: Register Here
Wednesday, March 17th, 8:30 am - 10:30 am: Register Here
Don't Miss WEC's COVID-19 Training
Through the NJ COVID-19 Awareness and Prevention Training, employers, workers, and worker representatives will gain knowledge through participatory training sessions to reduce the risks of exposure to the COVID-19 in the workplace.
The training will include NJ employers' obligations to workers as it relates to COVID-19 and employee rights. We will also review Governor Murphy's Executive Order 192, which applies to both the public and private sector.
WEC can pay participants $15 an hour to attend. See details.
Thursday, March 11th, 3:30 pm - 5:30 pm: NJ COVID-19 Awareness & Prevention Training
Wednesday, March 17th, 8:30 am - 10:30 am: NJ COVID-19 Awareness & Prevention Training

COVID Weekly Webinar Series Recap
UPDATE: Join us next Tuesday, March 2, as we are joined by Peter Dooley, Industrial Hygienist, National COSH, and Jim Howe, President, Safety Solutions to discuss Collective Bargaining & COVID-19. Register here
This past month, we were joined by experts who covered topics from the state's efforts to track and combat COVID, to transit equity and safety during COVID, to the efforts of workers to fight for better outcomes for all.

These experts included:
Dr. Tina Tan, MD, MPH, State Epidemiologist and Assistant Commissioner of the Division of Epidemiology, Environmental and Occupational Health at the New Jersey Department of Health
Corey Gallman, Recording Secretary of Amalgamated Transit Union's NJ State Council, and Jerome Johnson, General Chairman/President of Smart-TD Local 60
Janna Chernetz, Tri-State Transportation Campaign's Deputy Director and Director of New Jersey Policy
Marcy Gelb, Co-Director, National COSH and
Al Vega, Director Policy and Programs and Vice Chair of National COSH Board of Directors


Safe Work Safe Care Trainings

WEC's Safe Work, Safe Care training helps to create and maintain safe, healthy work environment for workers who provide health services to others. This training is FREE.
Upcoming Trainings
For More Information or to schedule training for your organization, contact Cecelia Leto, cgilliganleto@njwec.org.
Safe Work, safe Care is funded by an OSHA Susan Harwood grant.
Post-Pandemic Task Force
This month, WEC joined partners and allies to explore a plan for public education after the pandemic by bringing together educators, administrators, parents, and policymakers for multiple conversations. It is clear to us that to address serious inequalities in our state, we must take major steps to deliver on the constitutional guarantee of a "thorough and efficient system of free public schools" for every New Jersey student in every New Jersey community.
Please read our joint letter to learn what actions we must take to make this a reality. We will ensure that legislators and the State of New Jersey hears our voices!
Please contact Heather Sorge at hsorge@njwec for more information.

ESSENTIAL WORKERS IN THE TIME OF COVID-19
TUESDAY, MARCH 9th, 7 PM
Let's acknowledge the efforts of Essential Workers during the COVID-19 Pandemic. Photographer Earl Dotter shares current photographs of Essential Workers taken in the midst of the Pandemic.
His talk includes a History of the Use of Personal Protective Equipment (PPE). Throughout his career, many assignments have focused on workers performing hazardous occupations with the use of
Personal Protective Equipment, including those in textile, auto, steel mills, and other hazardous job sites. Emergency responders, farmworkers, and public workers will also be featured, as they
protected themselves from pesticides, toxic chemicals, asbestos, infectious disease, cotton, silica, and coal dust. Healthcare Workers on the Frontlines will be featured as they protect us all today.

Transit Equity Day
February 4th was Transit Equity Day, a national day of action to commemorate Rosa Parks' birthday by declaring that public transit is a civil right. Many organizers of the Montgomery desegregation campaign that Rosa helped lead were essential workers. This year, as many Black and brown essential workers continue to depend on public transit to get to work, asserting the right of every worker to safe, reliable and affordable transit is more urgent than ever.
Here in New Jersey, WEC and 25 labor, community and environmental partners honored Transit Equity Day with a digital Community Transit Justice Town Hall. We heard from Assemblyman Benson (a sponsor and advocate for NJ's Rider Bill of Rights), Mayor Sayegh of Paterson, labor and community organizers on their vision for a transit system that's safe, healthy, and accessible for every rider, worker, and community in New Jersey - and what action is needed to make that vision a reality. Watch the recording here! Public transit riders also shared their transit stories - check out this powerful testimony from Sharon McKenna, a bus rider and activist from Hackensack.
The fight for transit equity must go beyond a single day of action. One way Jersey Renews is continuing our transit advocacy is through our Just, Green Recovery Budget campaign - read below to learn more about our demands.
Demands for a Just, Green Recovery Budget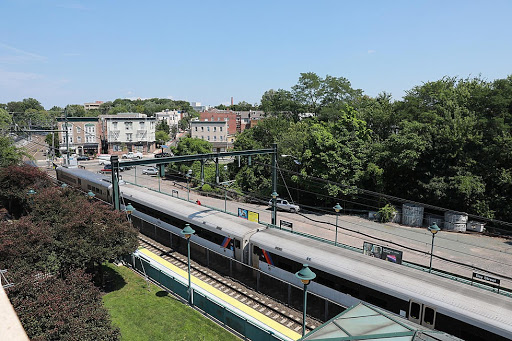 As the official kick-off of this year's budget season approaches with Gov. Murphy's Tuesday address, Jersey Renews has released a letter to the Governor announcing three core demands for a just, green recovery budget: full funding for the NJ Clean Energy Fund, dedicated funding for NJ Transit and robust investment in green workforce development.

These were announced at a virtual press conference last Wednesday, February 17th, where WEC spoke alongside a diverse coalition of partners, including many of the 25 groups who have signed onto the letter so far. Speakers emphasized that COVID-19 brings new urgency to our fight for a green economy, as essential workers continue to depend on public transit, low-income New Jerseyans struggle to afford their utility bills and many people remain un- or underemployed. Climate change and air pollution both intensify the public health risk of COVID-19. But although NJ Transit and Clean Energy Fund programs are needed now more than ever, last year's budget increased raids to the Clean Energy Fund and exposed the reliance of NJ Transit on dwindling ridership.
Read more in these news stories:
Stop raiding Clean Energy Funds to plug holes in NJ Transit budget, advocates say to Murphy - NJ.com
Murphy Urged to End NJ Transit Clean Energy Fund Diversions -NJ 101.5
Want to learn more about the Clean Energy Fund, why it matters, and how to make your voice heard? Email Berenice at btompkins@njwec.org to sign up for our Jersey Renews budget advocacy training on March 11.
New Jersey Work Environment Council (WEC)
172 West State Street 2nd Floor | Trenton, New Jersey 08608
609.882.6100 | info@njwec.org